2019.12.30 Monday
Happy New Year Sale 2020
こんばんは。
BALUCA 年内営業、無事終える事が出来ました。
今年も沢山のお客様にご来店頂き、感謝の気持ちで一杯です。

新しく迎える2020年も更なるステージを目指して前進していきたいと思っております。

今後共、宜しくお願い致します。


We would like to say thank you for all of your kind help that has kept us going
throughout this year!!!
We are looking forward to having our one step forward
to the next stages as "BALUCA"
And your countinuing support in the new year will be very much appreciated.
May you all have a wonderful year 2020.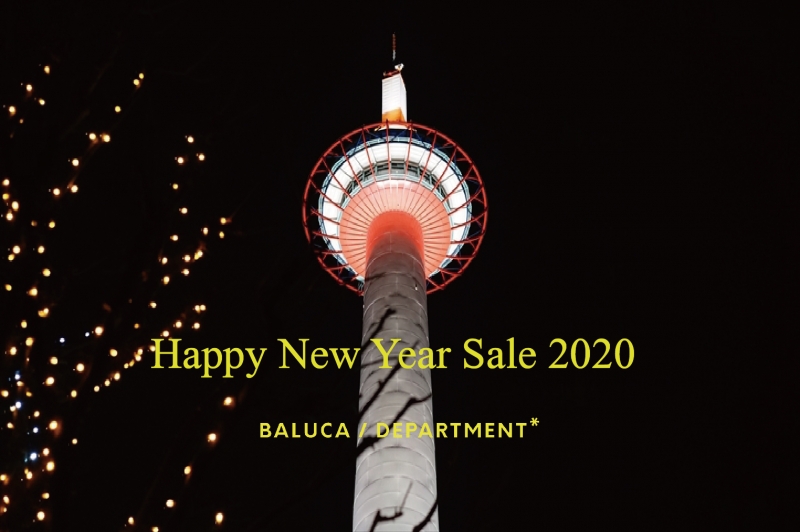 さて、新年明けて2日(11:00)より 日頃の感謝の気持ちを込めて"Happy New Year Sale!!"を行います。
(online store BALUCA DEPARTMENT は2日以降順次Sale Priceに変更して参ります。店頭を優先させて頂きます。宜しくお願い致します。)


たくさんのご要望を頂戴いたしましたので、福袋もご用意致しました。
Men's( S/M/L /SIZE)
¥20,000/(6万円程度~10万円程度の商品が入っています)
¥30,000(10万円程度~17万円程度商品が入っています)
注)全て違う内容の為、個体差があります。
お1人様、1袋とさせて頂きます。
又、EC Siteでの発売はありません。店頭のみでの発売となります。
宜しくお願い致します。


2019/2020 BALUCA 年末年始 スケジュール
12/31(月)休業
1/1(火)休業
1/2(水)11:00 – 19:00
1/3(木)11:00 – 19:00
1/4(金)12:00 – 20:00

※1/4以降は通常営業となります。
宜しくお願い致します。








それでは・・・
BALUCA/バルーカ
Grayce BLD 1F,4-1 SANNOMARU FUKUYAMA-CITY
HIROSHIMA JAPAN 720-0066
Closed on Wednesday
Shop Hour:12:00~20:00
Tel:084-921-0016
online store:BALUCA Department